Your One-Stop Solution for CD and DVD Duplication, Supplies and Services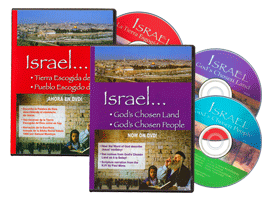 AWARD WINNING Israel Bible Series on DVD!
Video Overview of the Old & NewTestaments with Scripture Narration
"Israel – God's Chosen Land"
God's Word describes scenes and events of a land chosen by God for a special purpose. The "Chosen Land" will strengthen your faith in God as you follow the footsteps of Jesus' ministry—a DVD like no other. 35 minutes.
"Israel – God's Chosen People"
For the first time you can listen to the Word of God describe events and scenes of God's Chosen People and their "Promised Land." Follow 4,000 years of history of the Old Testament from creation through the redemption of man. 45 minutes.
ANGEL AWARD WINNING SERIES
SW-106DVD (English)
only $19.98
SW-106SDVD (Spanish)
only $19.98
---