Your One-Stop Solution for CD and DVD Duplication, Supplies and Services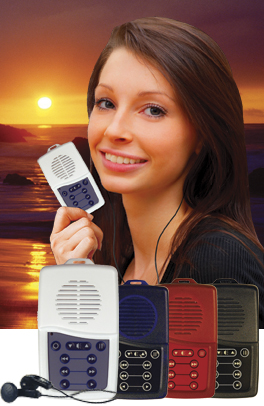 NEW Solar Powered Audio Bible
Less than 4.5" long!
Enjoy God's Word... powered by "
God's sun
!" The SpokenWord Solar Powered Bible is a revolutionary, digital audio player!
The perfect gift!
Solar-powered, rechargeable battery saves you money and recharges in daylight or incandescent light. Rugged and water-resistant! Earphones included. Port for 9v ac/dc recharging included (adapter available - only $6 each). Easy-to-use controls let you scroll forward or backward by book, chapter, or 10-second segment, plus pause or bookmark.
Complete Bible or NewTestament
English (KJV) or Spanish (RV 2000)
Includes earphones
Choose red, white, blue, or black
New Testament
•
MVNT
-
only $49 $29
(while supplies last)
Complete Testament
•
MVCB
-
only $79
Adapter
-
only $6