Your One-Stop Solution for CD and DVD Duplication, Supplies and Services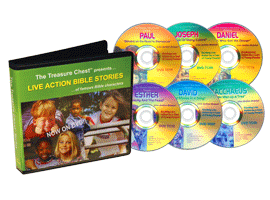 NEW Treasure Chest DVD's inspire children with live-action Bible stories!
Our best-selling children's videos are now available on DVD! The Bible comes alive, as David slays the giant and Paul has a life-changing encounter with Jesus.These Angel Award winning stories average approx. 15 minutes each, six discs in vinyl album!
Treasure Chest DVD Collection
•
6 DVD's in vinyl album
SW-TC26DVD (English)
only $29.98
---