CD/DVD Printers
Print your own beautiful, full color discs!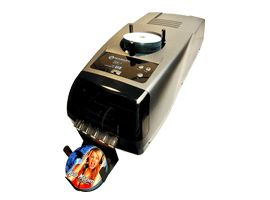 Microboards GX-2 Publisher
With its 50-disc input capacity, high-speed CD/DVD combo drive, integrated inkjet printer, and small desktop footprint, the GX Disc Publisher is perfect for businesses and organizations requiring short runs of discs. Only 11.5 inches wide!
18X DVD/48X CD burning
Fast—less than one minute
Software included for designing labels and mastering discs (PC only)
Single high-speed USB 2.0 interface
Windows XP/2000
Up to 4800 dpi printing
List $1,995–
now

only $1,495
---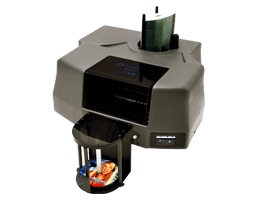 Microboards PF-3 Print Factory® CD/DVD Printer
All-new from Microboards, the low-cost, fast way to print CDs, DVDs, Blu-ray, and HD-DVD discs automatically. Highest resolution (4800 x 1200 dpi) on the market. Fastest print engine, producing text/graphics discs in less than twenty seconds! Its 100-disc capacity allows for 100% unattended printing. Included with the PF-3 is SureThing label design software (Windows 2000 & Windows XP). For maximum productivity, up to five PF-3 Print Factory® printers can be connected to a single computer!
List $2,495 –
now
only $1,895
---